Cheap And Cute! Nuff Said!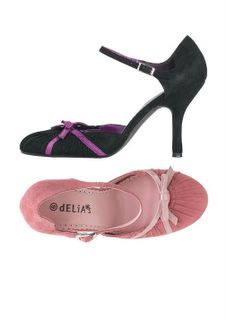 Hold on for the ride my friends. Do you see those shoes? Do you know how much I love them? Do you know the kind of tears I will cry if I don't get them? Well guess what? They cost
42 dollars.
Welcome to
Delias.com
Before you protest! Yup, I know it's geared toward teens. But I am so not in my teens. I'm in my late twenties, fighting 30 like a lip-glossed Sisyphus on the hopeless quest to push a rock up a hill only to get nipped in the ass when it rolls back on down. Um...where was I going with this? Oh yeah. Sift through the teen stuff. Push it aside. Find the gems.
The
last time
we spoke about clothes, I showed you my fave splurge website, with all its gorgeous luxury. But my guilty pleasure? Yeah, it's Delia's. When I get endless compliments on my perfect cotton slouchy bag with the yellow bow? Do I just say thank you and smile coyly, knowing in my heart how much I spent on it? No! I shout out: Thanks! I got it for
seventeen dollars and sixty-five cents!!
Bwah hah hah hah!!!
But my best find so far (one that's no longer available, alas) is my beloved black eyelet ballet flats. Like Audrey Hepburn wishes she had. They are perfect with jeans, and I swoon a little each time I slip 'em on. And ooh, I just swooned again thinking of them.
So, am I telling you to slog through the junk all on your own without any help from La Real Girl? Please. Have you been reading this site long enough to be familiar with my obscene love of lists? If not, then today is your
lucky day
.
Here are Real Girl's faves of the fall season at Delias.com! (And yes, I know some of you with malls have actual Delia's stores. I am jealous of you right now. A Delia's store may be the one thing NYC doesn't have. That, and Dairy Queen. Which is particularly heartbreaking because they still show Dairy Queen ads for New Jersey and Connecticut, and so I am left drooling over a cheesecake sundae thingie that's on my TV but that I CAN'T HAVE....Moving on.)
Here's Listy McListypants!
The Sweater Boot
: I don't quite know why I want this boot so much. They probably can't get wet, they must be impossible to clean...and yet I can so picture them all slouchy with a cute mini skirt or over jeans...
The Perfect Tank
: Ignore the skull and crossbones and check out the solid version. Long enough to avoid the dreaded lift-up-my-hands-and-oops!-there's-my-tummy syndrome. So key, that.
The Grandma Bag
: This just looks like a perfect flea market find to me. Comfy.
The Peasanty Skirt
: Pair it with your own Non-AC/DC shirt and how cute would it be?
The Tweedy Cap
: For the 60s British Mod Girl in us all.
The Charm Bracelet
: Have you seen one more charming?
The Mini Vest
: It's a vest! It's wee! Awwww.
The Peephole Top
: So basic and wearable, yet a little sexy too.
The Girlie Coat
: This? Might be the cutest coat ever. I want. Waaaaaaaaant. (Is it warm? Probably not!)
The Belted Pea
: If you want a more sophisticated coat, this would be an adorable option.
So there you go. Real Girl's Delia's picks of the season. Things to consider: Shipping is free with orders over $75, but be sure to look for the code for that and type it in at checkout. Returns? Not free. That is annoying and the biggest drawback of catalog shopping, but in my mind still worth it given these prices. Also? Beware any pants that mention flare. For some reason, Delia's does not want the bottoms of these trousers to ever get near your ankles. Flare means
bell bottoms.
But what about you? What are your favorite online shopping sites? Have you found any other Delia's options we need to know about? Do you want to crow about your favorite bargain places? Anything at all?
You know I love ya!
Real Girl
xx