Take Me Out Tonight!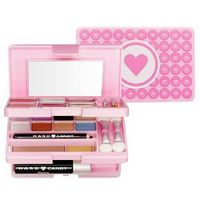 What was I thinking! Ladies short program! American Idol! On this night of Guilty Addiction Television, what the heck am I doing scribbling on my computer?
Talking about my new beauty products, people.
Duh
!
To
Ahe
's dismay (why, Ahe!!?? please share!), tonight we're talking about take out. But this is not your mother's Lo Mein, no matter how cute the Chinese food packaging may be. (It looks like rice! But it's really
mayyy-kup!
). No, this is much more fun than any brown noodle dish could ever be. Hear me, ladies? FUN.
Hard Candy Take Out Makeup Kit
is just pure FUN!
See, this is why it's great to have friends (hi Madgirl!) who buy you things you didn't even know you wanted. If I had seen this product at the store, I would have marveled over its pink-hearted packaging (pink! hearts!), maybe snuggled it for a moment (purr, purr), and then passed it by as a gimmick (over it!). But then I would have been at such a loss! To avoid the Take Out would be to avoid one of the best parts about makeup—the notion of dressing up as something you're normally not. Of experimenting with looks that might nudge you just slightly past your comfort zone. How many times have you eyed an eyeshadow or lip gloss that you're not
quite entirely
sure you can ROCK? It's happened to me lots. But then I look at the price of this one gloss or eye shadow ($15!) and it's just too much to pay for a single little plaything. So I go for my usual colors—my bronzes, my browns, my safe old favorites.
But the beauty of the Hard Candy Take Out is that you're getting a whole palette of fun, daring, super sparkly party colors that—I fully admit—have just had me smiling since I got it. Somehow Hard Candy has got the perfect sparkle down—glittery but still subtle, a youthful effervescence, a glow.
But let's be thorough here, my friends. Because we're talking tiers of makeup.
Tiers
. To start, I think you might have heard me mention pink! and hearts! to which I only say: mmm-hmmm.
Pop open the top to…lip gloss!! Surprisingly flattering lip gloss. The bubble-gummy pink in the middle bottom row made my lips look gently bitten. The clear shimmer just makes my lips sparkle with cuteness. And the nudes come with shimmer or without. These are not powerful lip glosses—they're subtle hints of color, not goopy or thick at all. They're best worn over a basic lip balm (my personal preference) or under a shiny clear gloss for full effect and moisture. (Overall RGB disclaimer: Digital camera, why do you make everything so orange? Colors here are not exactly as they appear in *lower case* real life. Especially those two on the far left—so much cuter in person!)
Flip up another layer, and we get…wheee!...eye shadows! And fun ones, too, with party sparkle that brightens the eye. I like the black a lot, which is soft and pretty (I'm wearing it in my new Real Girl picture at the right.) Even the purple and green are light enough to be flattering. And the white serves as a perfect highlighter at the inner corner of the eye and top of the brow bone. But what I love most about these colors is that I would have never bought them singly or in their own palette, but I've been having so much fun experimenting with the new colors. It makes me feel young again. Like, oh I don't know, a mere 28 or something.
Let's sneak up to my favorite tier now. The bronzer! Love it! This is a great, tawny color for my pasty winter cheeks. I love the subtle shimmer that just lights up my face, negating a seasons' worth of sharp, biting winds. Also? I'm kind of digging the small concealers here. Neither are quite right for my skin tone, but I can combine the two on one brush to get a closer match, OR I can use the lighter one as a sort of primer, which I've been doing. I brush the light concealer on my darkest areas before my normal concealer, and by golly, I see a difference there.
The only part of the Hard Candy Take Out Kit that really disappointed me, alas, was the mascara—which is gloppy and heavy. But I've been playing every day with the lip glosses over chapstick (okay, actually my superhydrating Body Shop Hemp Lip Balm—but that's a whole other post!) and the fun, sparkly eye shadows. I'm taken! You got me hearts and pinkness. You gottttttttt me.
Which makes me your,
Real Girl
xx
P.S. (American Idol kind of sucked, didn't it? But the ladies short program isn't over yet…)
(And let's hear what you think of palettes! Hard Candy products! Great products for experimentation! (Not that kind, you dirty Nellie!) Anything at allll! Shout 'em out.)